Featured Mega Menu Products
---
The "Featured Mega Menu Products" add-on allows you to add horizontal or vertical featured product scrollers inside the expanded Mega Menu window. These featured products may only be added to your first level categories. For Multi-Vendor users, this would be a great monetizing tool as your can add any products from any Vendor in your Marketplace, thus charging them for this service. NOTE: Featured products only display on DESKTOP version.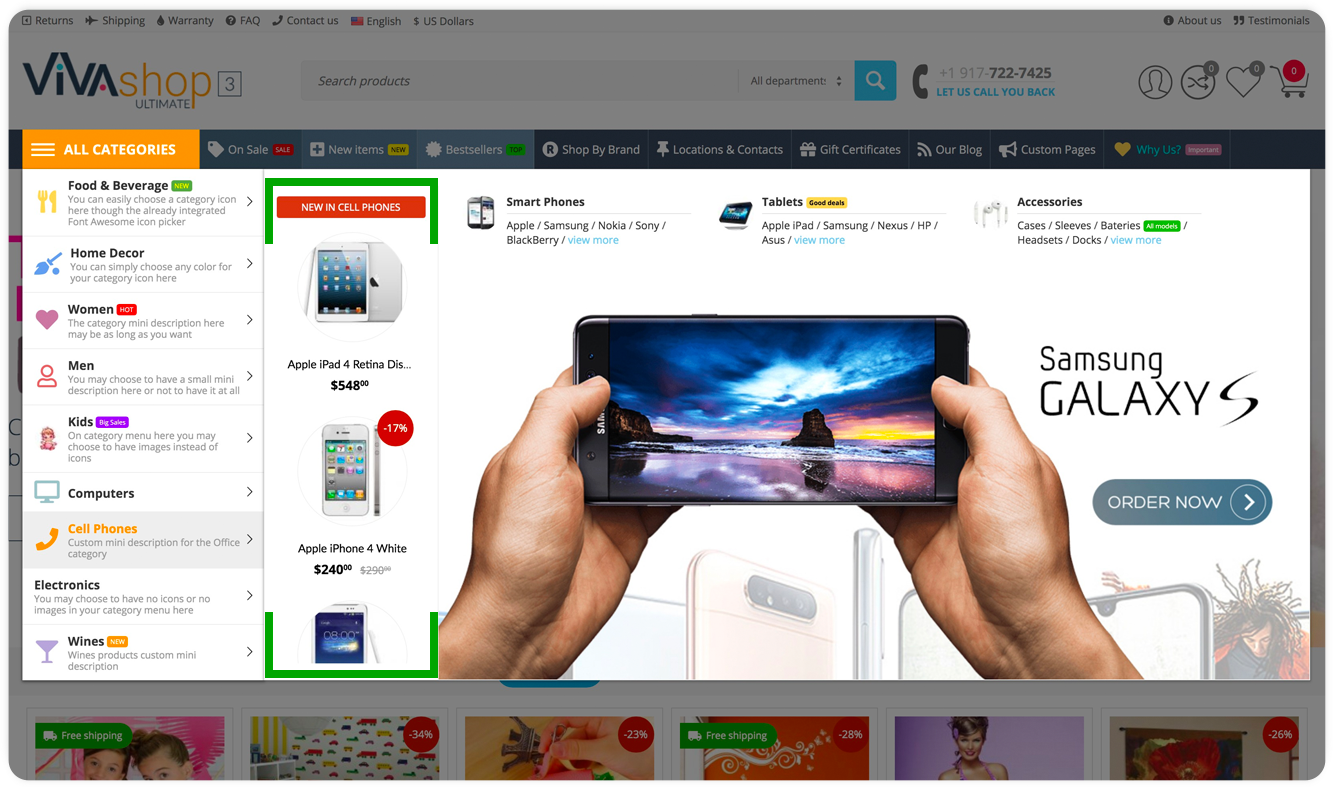 The settings for this addon are implemented inside the settings for the "ET - Advanced Mega Menu" add-on. Please follow the steps below in order to learn how to add featured product scrollers to your Mega Menu:
In your admin panel, go to "Products" - "Categories"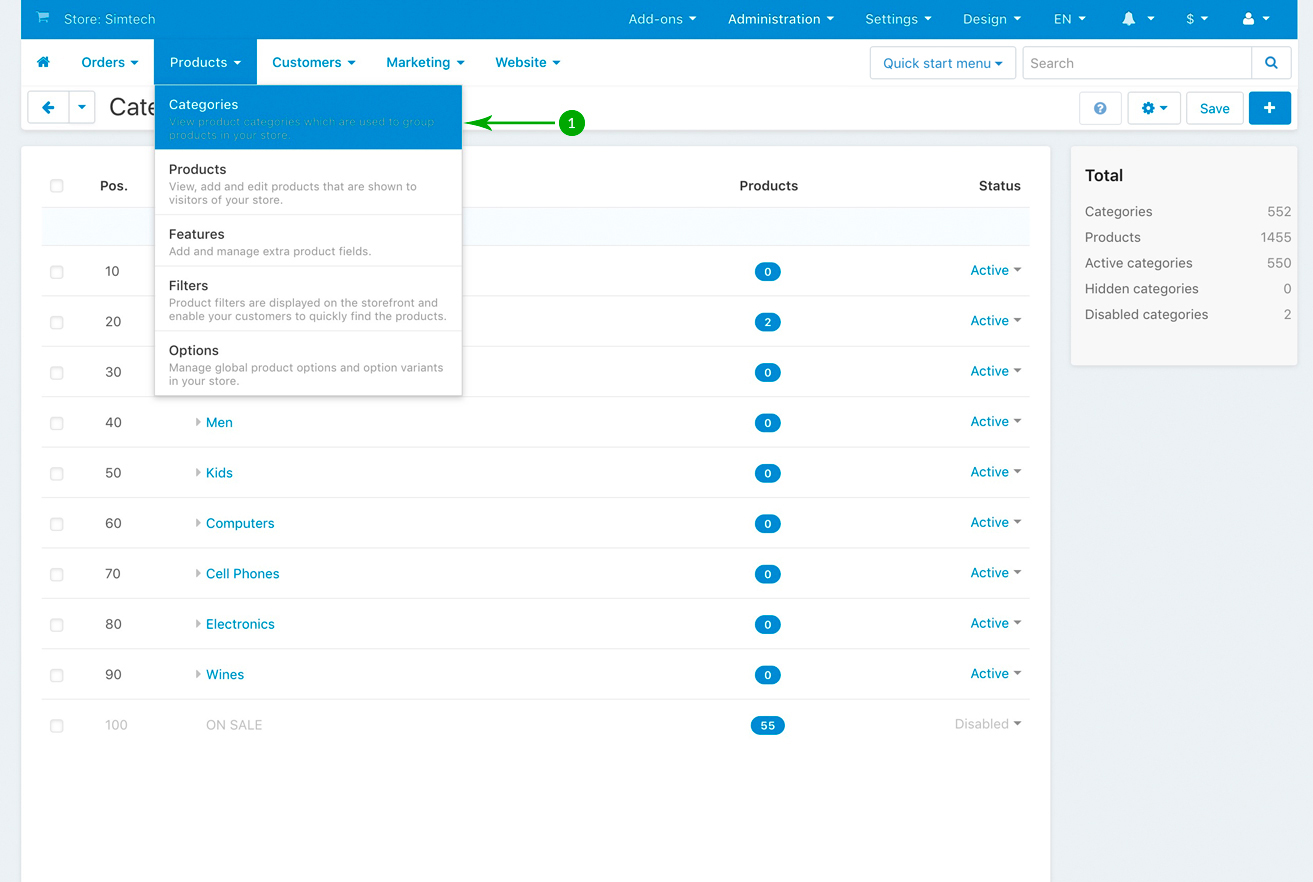 In the next page you'll see a list of all of your first level categories. Click on a first level category that you to edit. In our example, we'll edit the first level category called "Cell Phones", so, we'll click it.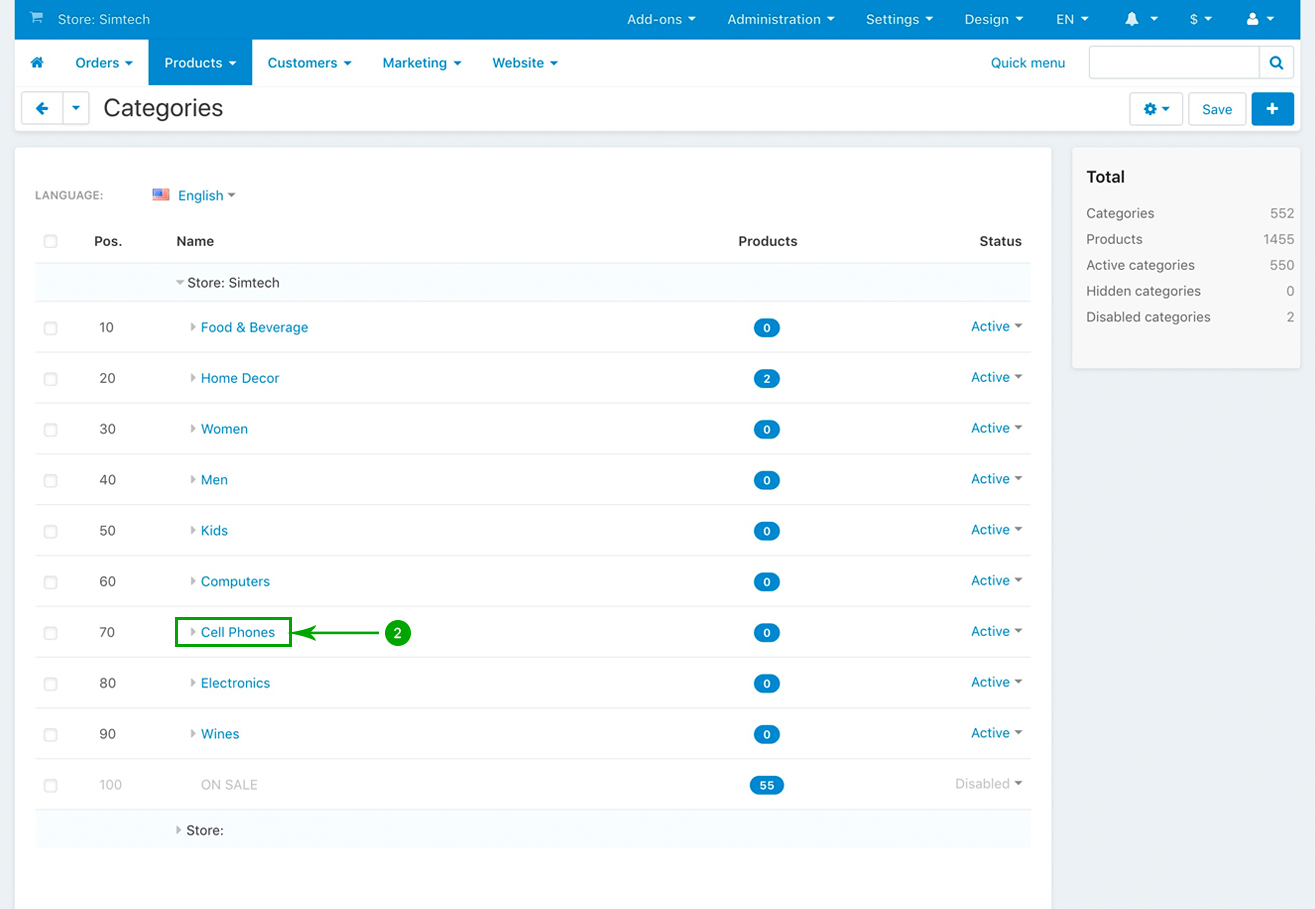 In the newly opened page, click on the "ET - Advanced Mega Menu" tab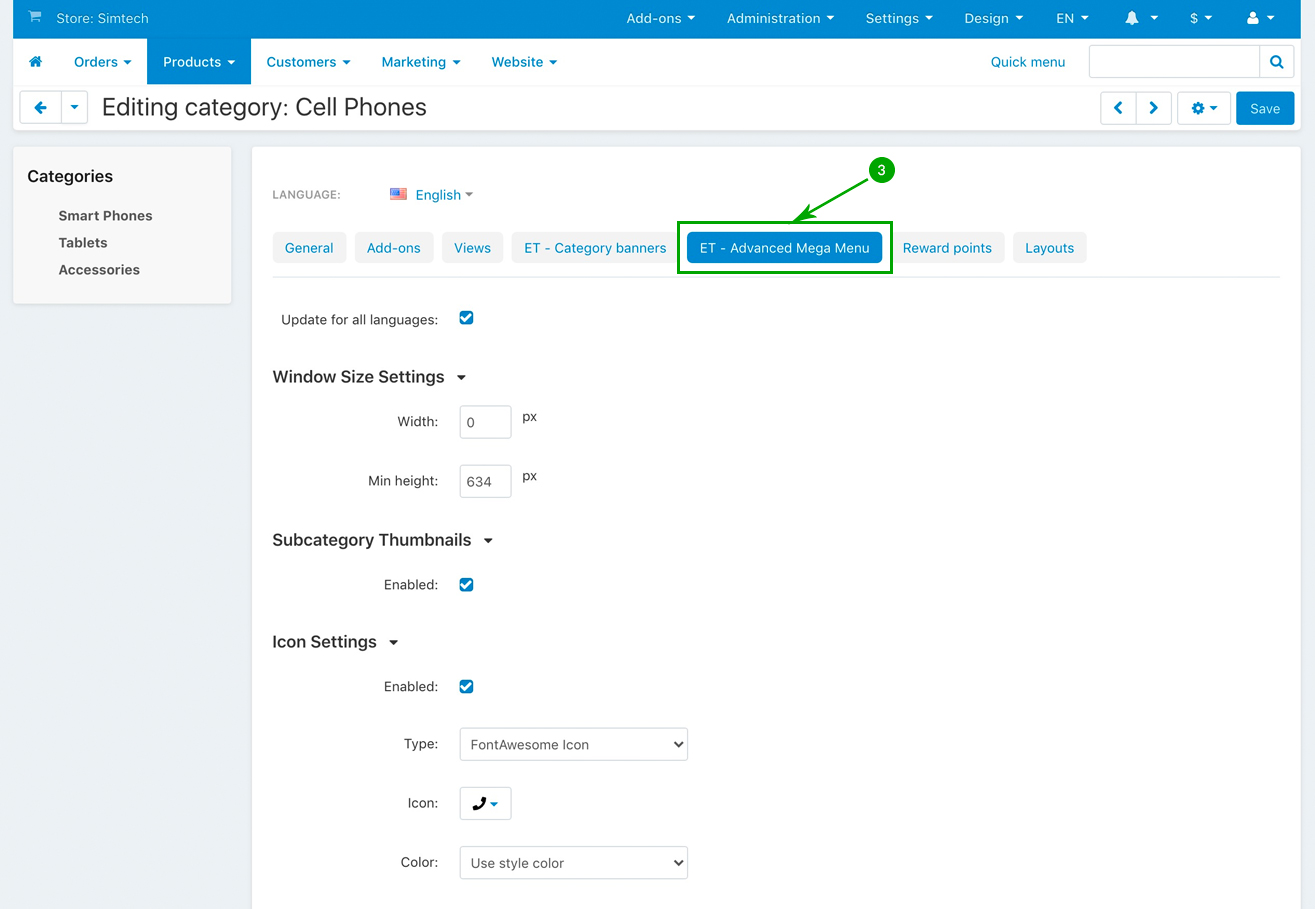 Under the "ET - Advanced Mega Menu" tab, scroll down until you get to the "Featured Product Settings" section, and select the options for your featured product scroller. Click on the top right blue "Save" button when you're done.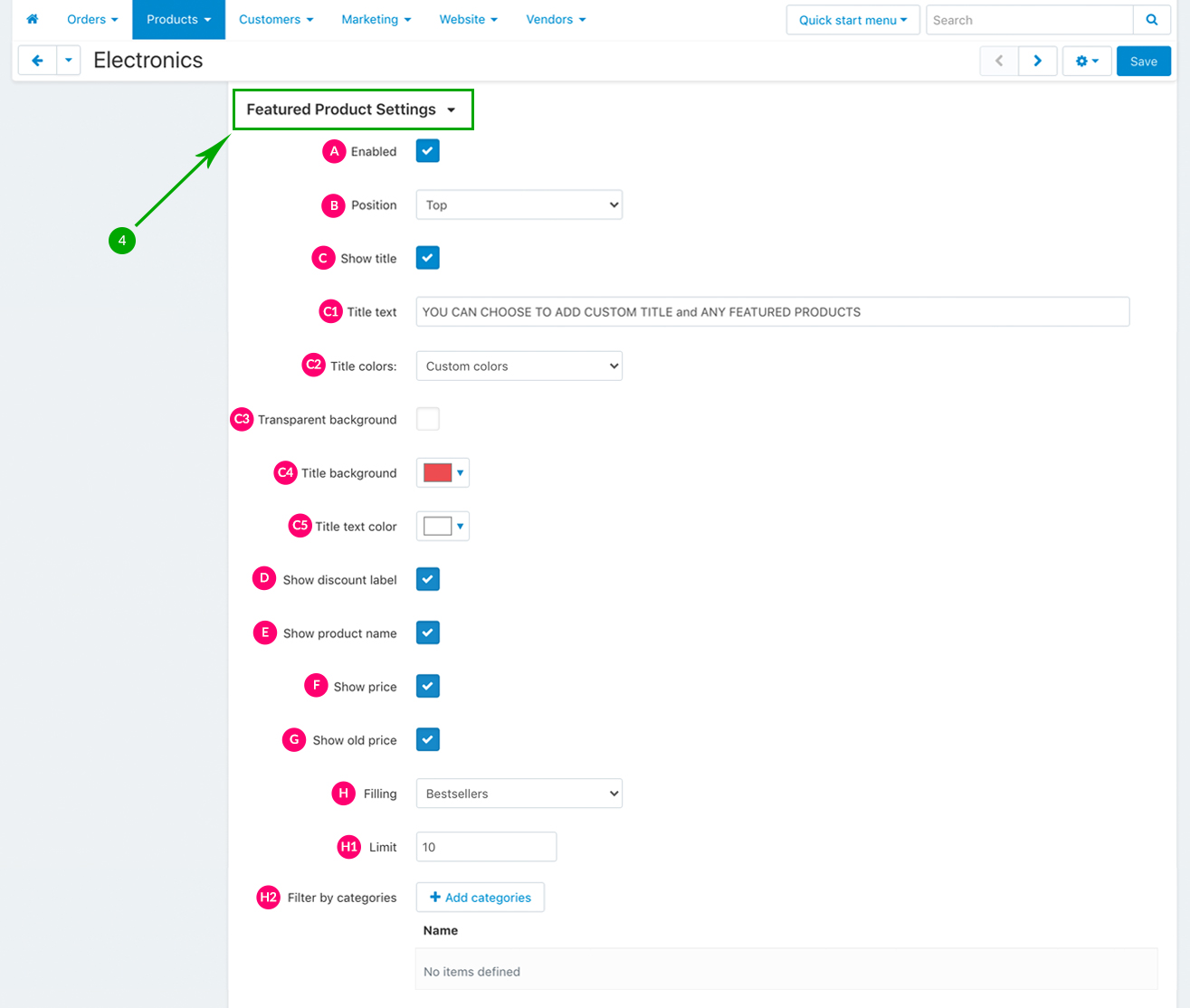 A: Enabled - Check this box if you want to add featured products to your Mega Menu
B: Position - Select where in the Mega Menu you want the featured products to appear. You can choose from 4 options: "Right", "Left", "Top" and "Bottom". For our example we have chosen the "Left" position
C: Show title - Check this box if you want to display a title for your product scroller, as well as customize it
C1: Title text - If you have chosen to add a title, then enter your desired title text
C2: Title colors - Then, choose the color settings fro your title. You can either choose to "Use style colors" in order to use the pre-defined VIVAshop colors of the style currently in use, or choose to add your "Custom colors"
C3: Transparent background - If at the above "Title colors" section you selected the "Custom colors options", then check this box if you do not wish to add a background color to your title
C4: Title background - If you have not checked the above "Transparent background" option, then pick a background color for your title
C5: Title text color - Whether at point D3 you have checked the "Transparent background" option or not, you need to pick a color for your title text
D: Show discount label - Check this box if your you want the discount label to be displayed for your featured products. The discount label will be displayed only for discounted featured products
E: Show product name - Check this box if your you want the product names to be displayed for your featured products
F: Show price - Check this box if your you want the current product prices to be displayed for your featured products
G: Show old price - Check this box if your you want the old product prices to be displayed for your featured products
H: Filling - Select the product filling you want to use
Manually: Select the products you want to display
Newest:

Period - Period of time over which products were added to the store database
Last days - Number of days over which items were added to the store database before the visitor has opened the storefront
Limit - How many products to display
Filter by category - Chose the categories from which the products should be displayed

Most popular:

Limit - How many products to display
Filter by category - Chose the categories from which the products should be displayed

Bestseller:

H1: Limit - How many products to display
H2: Filter by category - Chose the categories from which the products should be displayed

On sale:

Limit - How many products to display
Filter by category - Chose the categories from which the products should be displayed

Rating:

Limit - How many products to display
Filter by category - Chose the categories from which the products should be displayed